Walter James Potts (served as Roy Smith)
Rank: Lance Corporal
Service Number: 3033
Unit: 47th Battalion
Date of Death: 19 August 1917
Cemetery: Derry House Cemetery No. 2, Belgium
Two of the six sons born to a Stanthorpe mining family died less than two months apart on the Western Front in World War I. The two men had been born on the same February date three years apart, but they enlisted in different towns under different names. Alfred Herbert Potts enlisted at Armidale, New South Wales, on 4 January 1916 and Walter James Potts enlisted at Bundaberg, Queensland, on 25 August 1916, as Roy William Smith. Walter and Alfred Potts were the sons of tin miner Joah de Lacy Potts and wife Ellen of Stanthorpe. In 1917 they were both fighting on the Western Front in France and Belgium. In August, Walter was killed in action as the Anzacs prepared for their first attack in the Battle of Passchendaele. In October, Alfred died when the Australian 3rd Division attacked the Passchendaele ridge.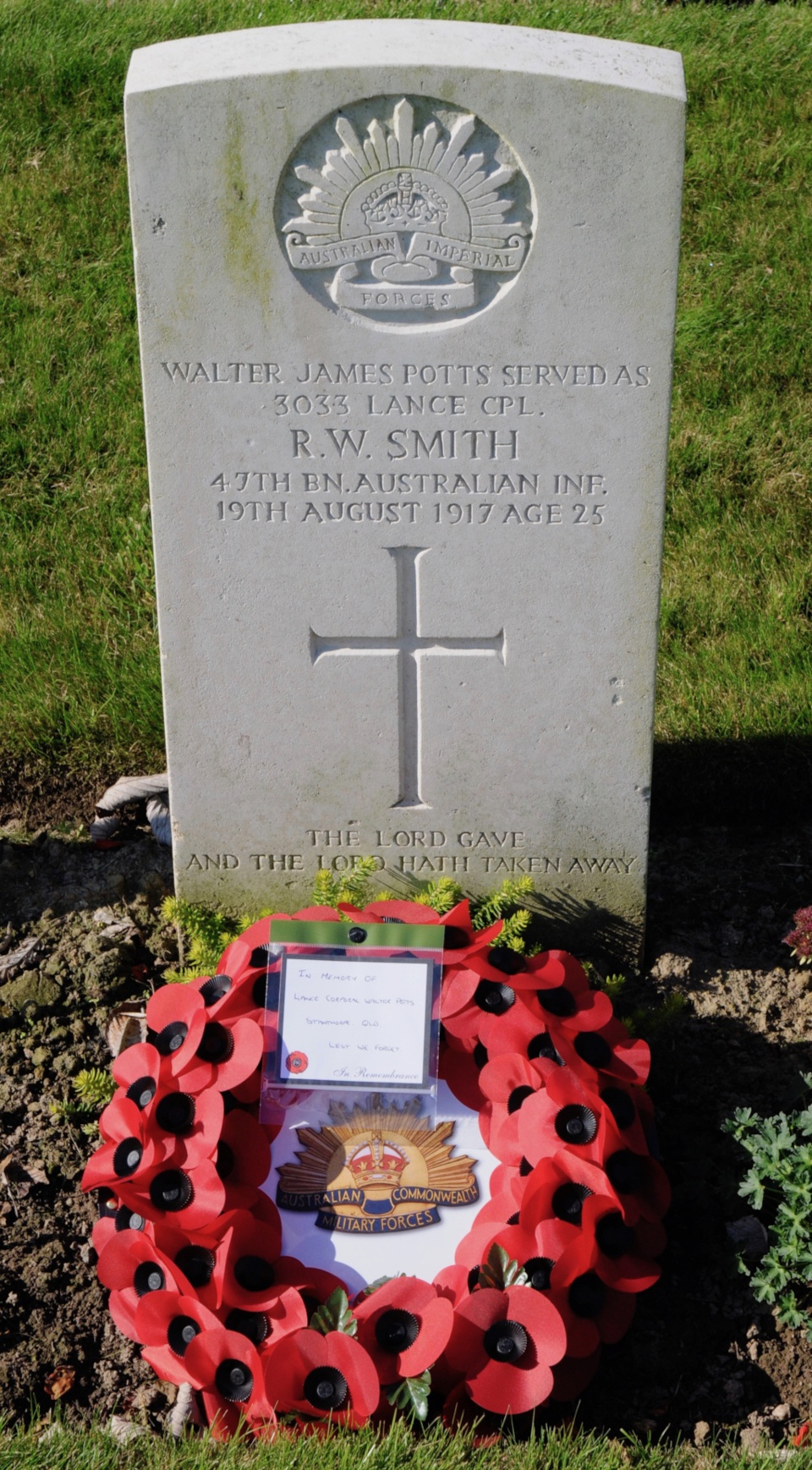 Walter's enlistment under an assumed name led to a series of misunderstandings and mistakes that would take his family more than six years to unravel. When he enlisted, Walter stated that he was born in Stanthorpe and his next-of-kin was his father, Joseph Potts Smith, who was still living there.
A few days after enlisting, Walter wrote to his parents to explain why he enlisted under a false name:
My Dear Father and Mother.
Just these few lines to let you know where I am. Hoping this will not give you any shock. I came into camp this morning. I gave my name as Roy William Smith. If you are going to disown me for doing it don't answer this letter. My reason for doing so was I did not know that Bundaberg was a final push so if the Doctor had passed me up this and sent me down here and got passed out I would have to pay my fare back. Bob Goodsall is in camp here. So if you do site [sic] address, Private Roy W. Smith, C. Company, Enoggera.
It appears Walter failed the medical examination at his first attempt to enlist. He travelled to Bundaberg to try again but feared that if he failed the medical again, the Army would make him pay the rail fare back to home. Therefore, he decided to enlist under a false name.
Walter joined the 7th reinforcements of the 47th Battalion. He left Brisbane on active service aboard HMAT Marathon on 27 October, the same ship that had taken Alfred to England five months earlier. Walter arrived in Plymouth, England, in January 1917 from where he travelled to Codford Training Camp on the Salisbury Plain. Following several months of training he left on 3 May for the Western Front where he joined his battalion in the field. The 47th Battalion was badly in need of reinforcements, having suffered heavy casualties in the Battle of Bullecourt.
Walter did not have long to adjust to life on the front line. On 7 June, the 47th Battalion took a leading role in the attack on the first day of the Battle of Messines. Walter survived the fighting at Messines despite the battalion suffering 463 casualties, including 126 who were killed in action, mostly on the first day of the battle (Deayton 2011, 154).
In August, after recovering from fighting at Messines, the 47th Battalion returned to the front line at Wytchaete, north of Messines. Here they relieved the King's Royal Rifle Corps who had their headquarters in a pillbox known as Derry House. After two weeks in the front line, the battalion moved back to trenches known as Torreken Farm.
The War Diary of the 47th Battalion noted:
Despite the fact that no movement is permitted in daylight at this location, a certain amount of haphazard shelling is indulged in by the Hun with the result that we have suffered more casualties in proportion than whilst in front line. To date whilst here we have had 7 Other Ranks killed, 18 Other Ranks Wounded and 2 Other Ranks Died of Wounds. (AWM 1917)
On 1 August, Walter James Potts was promoted to Lance Corporal. Eighteen days later he was killed in action at Torreken Farm and was buried at Derry House Cemetery. He was 25 years old.
On 21 August, the Battalion's War Diary noted:
Completed cemetery at Derry House for all men of the Battalion killed during operations in this sector, erecting crosses to all perpetuating their memory. It is trusted that the Cemetery may be preserved as a burying ground for men who gave their lives in the Cause. (AWM 1917)
The Stanthorpe Border Post reported Walter's death on 21 September:
The sad news reached Stanthorpe on Wednesday last that Private Walter Potts, of Stanthorpe, had been killed in action.  The news was received by the Shire Clerk, and the Rev. D. Fletcher undertook the duty of breaking the news to the deceased's parents.  Private Potts left Brisbane in October after undergoing training in Enoggera camp with the 7th Reinforcements of the 47th Battalion.  Several letters were received from him in France, where he had been in the firing line on many occasions.  We feel sure the sympathy of all will go out to the bereaved relatives in their sad loss.  Mr. and Mrs. Potts have another son in France fighting for the Empire.
On the same day, Walter's father wrote to Army Base Records in an attempt to have his son's name properly recorded, and not as Roy William Smith. He wrote again on 19 October:
I have been trying to get my sons name corrected. I received word of his death in Action in France. He enlisted under the name and number of 3033 Private Roy William Smith at Bundaberg whereas his real name was Walter James Potts 25 years old. I wrote Lieut. Col. Luscombe and sent the full account to him. He wrote to me on Sept 24th which I enclose. To facilitate enquiries The Shire Clerk got the enclosed which I only got on Saturday as he forgot to give it to me. My other son is No 518 B. Company 33rd Battalion Alfred Herbert Potts 28 years old. He is in France. I should like Walter's proper name put in to save complications afterwards. He gave my name as Joseph Potts Smith. He gave me as his reason that having been turned down twice he might get in trouble over it. My name is Joah de Lacy Potts. I am 74 years old his mother is 60 years. We were married here in Stanthorpe 42 years ago. Mrs. Hyde the Allotee of his pay is my youngest daughter. I received 2 letters from Walter 1 for us 1 for his sister under cover to one bearing his signature of Roy Smith. At his send off in the Shire Hall here he gave his correct name.
Joah was unaware that his other soldier son, Alfred, had been killed in action at Passchendaele one week before he wrote that letter.
In October and December 1917 there are notes in Walter's Service Record stating that documentary evidence had been produced showing his name to be Roy William Potts.  The ongoing confusion appears to be partly as a result of the following letter sent by the Shire Clerk Edward Shelford to Colonel Luscombe on 21 September 1917:
Roy William Smith Killed.  With reference to telegrams of 19th-20th re the above soldier, and any reply, I have to state that we have found out the proper persons required. Smith's name is Roy William Potts and his father's name is Joah (not Joseph although he generally is called Joe) Potts. The Wesleyan Minister kindly went yesterday to break the news to him. It appears the young fellow tried to enlist in his right name but was turned down and eventually enlisted at Bundaberg, so I am informed as Smith. At any rate he is a native of Stanthorpe his parents have lived here over 40 years to my personal knowledge. As to his father appearing as Smith, I think that can be easy explained – when he gave his name as Smith and was asked his father name, probably the answer was Joseph Potts, and the recruiter may have thought those were Christian names thinking his surname would naturally enough be Smith, same given by the deceased. Mr. Potts naturally enough wishes the name put right. He has another son at the front- he also desires to know who the next of kin is. According to your last telegram the Allottee is Mrs. Alice Hyde, the Minister states she is the deceased sister, of that I have no personal knowledge. At any rate there is no doubt as to names- Mr. Potts address is Quart Pot Creek Stanthorpe and he would be very thankful to hear from your department on the above. Thanking you on behalf of the family.
The Shire Clerk, Edward Shelford had lost his son William in August 1915 at Gallipoli. Just like Walter, his son William enlisted under an assumed name: William Jackson.
Finally, in September 1922, there is a note in Walter's Service Record stating that it has been ascertained that the correct name of Lance Corporal Roy William Smith was Walter James Potts. However, it was also noted that the Memorial Plaque and Scroll for Walter would be distributed in the name of Roy William Smith.
On Walter's headstone there is the following epitaph:
WALTER JAMES POTTS SERVED AS
3033 LANCE CPL.
R.W. SMITH
47TH BN. AUSTRALIAN INF.
19TH AUGUST 1917 Age 25
THE LORD GAVE
AND THE LORD HATH TAKEN AWAY
References
Craig Deayton. (2011). Battle Scarred. The 47th Battalion in the First World War. 1st edition. Newport. Big Sky Publishing.
Australian War Memorial.1917. War Diary of the 47th Infantry Battalion.
[ONLINE] Available at: https://www.awm.gov.au/collection/C1345057. [Last accessed 5 August 2017]
Photographs
Derry House Cemetery, Belgium.